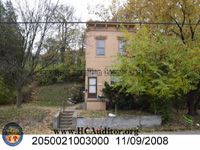 NEIGHBORHOOD:
South Fairmount
YEAR BUILT:
1900
USE:
Two-family dwelling
OWNER:
Knight Investments LLC (Cheyenne, WY)
ASSESSED VALUE:
$27,670
ORDERS:
June 2011, ordered vacated and barricaded due to prolonged vacancy and vandalism.
CONDEMNED:
September 2011, due to water damage, gutters and downspouts, broken or missing mechanicals, lack of utilities, broken and missing windows, and litter.
HAZARD:
February 2012. No contact from the owner.
REASON RAZED:
Declared a public nuisance and entered into the City's hazard abatement program.
MAP