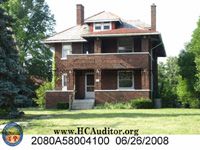 NEIGHBORHOOD:
Westwood
YEAR BUILT:
1916
USE:
Two-family dwelling
OWNER:
Deutsche Bank National Trust Company
(Santa Ana, CA)
ASSESSED VALUE:
$78,570
ORDERS:
February 2007, for broken walks, gutters and downspouts, porch, electric fixtures, plaster, flooring, and roof. Some work was done, but by June 2009 calls to the former owner went to a number that was no longer in service. That same month, orders were reissued with soffit, masonry, and exterior paint added. In August, the former owner filed for bankruptcy, but chose to retain ownership of the house. At the beginning of 2010, the former owner claimed that she no longer owned the house and that it had gone into receivership. That April, orders were again issued and added the garage, chimney, cornice, soffit, windows, and rubbish into the mix. The building was ordered vacated and barricaded in July 2010, then again in July 2011. The entire property was in limbo.
CONDEMNED:
December 2011, totally sacked.
HAZARD:
May 2012. The bank finally took "ownership" of the building on October 4, 2012.
REASON RAZED:
Razed privately by the owner to close out imminent orders, after the City had already expended funds for permit applications, a performance bond, and an asbestos survey.
MAP