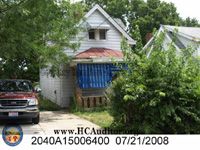 NEIGHBORHOOD:
West Price Hill
YEAR BUILT:
1917
USE:
Single-family dwelling
OWNER:
DCS Management Group II LLC
ASSESSED VALUE:
$38,070
ORDERS:
--
CONDEMNED:
February 2004, for structural failure of the foundation. The orders were reissued in January 2007. The owner applied for a permit to fix the foundation, but the application was allowed to expire. Orders were reissued in August 2009, citing prolonged vacancy and a lack of utilities. A criminal case was pursued in October 2009, but dismissed due to an inability to serve summons.
HAZARD:
September 2010, adding missing siding, cornices, soffits, and box gutters.
REASON RAZED:
Declared a public nuisance and entered into the City's hazard abatement program.
MAP