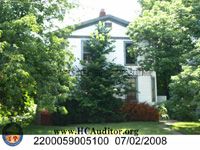 NEIGHBORHOOD:
Spring Grove Village
YEAR BUILT:
1895
USE:
Two-family dwelling
OWNER:
Jeffrey S. Little
ASSESSED VALUE:
$57,540
HAZARD:
January 2012.
CONDEMNED:
February 2011, with a rear lower portion so rotted and decayed that the rear wall was collapsing.
ORDERS:
July 2010, ordered vacated and barricaded due to vandalism, broken windows, defective siding, roof failure, a deteriorated chimney, and poor gutters and downspouts. Currently in criminal status.
REASON RAZED:
Declared a public nuisance and entered into the City's hazard abatement program.
MAP