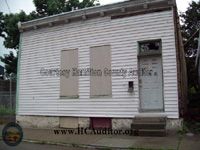 NEIGHBORHOOD:
Northside
YEAR BUILT:
1895
USE:
Single-family dwelling
OWNER:
Cincinnati Northside Community Urban Redevelopment Corporation (CNCURC)
ASSESSED VALUE:
$4,000
ORDERS:
January 2007, ordered barricaded. In April 2008, the house was again ordered barricaded and vacated.
CONDEMNED:
January 2009, citing prolonged vacancy, trespassing, lack of compliance with Vacant Building Maintenance License orders, broken windows, and damaged siding. A criminal case was pursued, but apparently never filed.
HAZARD:
June 2009. CNCURC acquired the property two months later and kept it secured.
REASON RAZED:
Razed as part of CNCURC's Blockwatch 45223 Homeownership Project, a strategy to reduce the negative effects of foreclosures through new construction, rehabilitation, and demolition activity in the area bounded by Chase Avenue, Blue Rock Street, Lakeman Street, and Kirby Avenue.
MAP