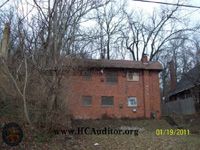 NEIGHBORHOOD:
South Fairmount
YEAR BUILT:
1962
USE:
Multi-family dwelling (4 units)
OWNER:
David Nukasa
ASSESSED VALUE:
$14,550
HAZARD:
March 2012.
CONDEMNED:
October 2006. Vacant for several years and missing windows and doors, allowing in trespassers, vermin, and weather. Interior walls and ceilings were stripped to the framing, and the framing was damaged. Onwer performed some work under the proper permits, but, by early 2008, work had stopped. The orders were reissued in June 2009, adding a defective roofing system, defective mortar joints and brick work, gutters, a failing retaining wall, and weeds and litter. Over the next two years, the building was gutted to the studs.
ORDERS:
--
REASON RAZED:
Declared a public nuisance and entered into the City's hazard abatement program.
MAP