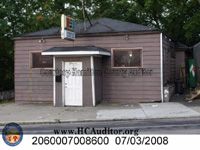 NEIGHBORHOOD:
South Fairmount
YEAR BUILT:
1924
USE:
Restaurant, cafeteria or bar
OWNER:
City of Cincinnati
ASSESSED VALUE:
$27,630
ORDERS:
July 2010, for fire damage, litter, broken and missing windows, exterior paint, siding, soffit, gutters and downspouts, roof, a fallen tree, and hazardous wiring. Ordered barricaded in August 2011.
CONDEMNED:
--
HAZARD:
--
REASON RAZED:
Razed for intersection realignment as part of the City's Harrison Avenue improvement project.
MAP