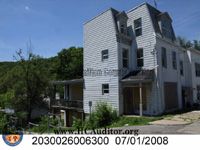 NEIGHBORHOOD:
South Fairmount
YEAR BUILT:
1905
USE:
Two-family dwelling
OWNER:
Charles V. Day
ASSESSED VALUE:
$5,340
ORDERS:
June 2007, ordered vacated and barricaded. In September 2007, orders were reissued to new owner Guardian Savings Bank. Day purchased the property in late 2008, and the orders were again issued. The vacant building had been heavily vandalized.
CONDEMNED:
January 2010, citing missing or vandalized mechanicals, broken windows, missing siding and downspouts, and litter. A criminal case was filed against Day that same month, and was continued through this year as he tried to bring the building up to Vacant Building Maintenance License standards. He was also hit with a $500 civil fine.
HAZARD:
May 2010, adding roof damage.
REASON RAZED:
Due to Day's inability to obtain a VBML or to meet development timelines, the property was declared a public nuisance and entered into the City's hazard abatement program. Demolished at a cost of $4,896.
MAP