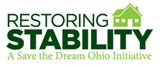 A statewide foreclosure prevention program has disbursed $82.5 million on behalf of nearly 7,500 homeowners in its first two years, the
Ohio Housing Finance Agency (OHFA)
reports.
Restoring Stability: A Save the Dream Ohio Initiative was designed to assist homeowners with unexpected financial hardships such as unemployment, reduced wages, medical expenses, or divorce.
Through the program, up to $25,000 per household is provided to help homeowners make monthly mortgage payments, become current on their mortgages, modify loans, eliminate a lien, or exit their home. Seventy-one percent of participants are currently unemployed and unable to qualify for most loan modification or other foreclosure prevention programs.
Funding for Restoring Stability comes from $570.4 million provided through the
U.S. Department of the Treasury's
Hardest Hit Fund. Ohio, one of 18 states and the District of Columbia to receive a piece of the $7.6 billion is assistance, ranks third in the nation in the amount of funds distributed.
OHFA administers the program through agreements with more than 350 mortgage servicers and through partnerships with housing counseling agencies in all 88 counties.
Established in 2008,
Save the Dream Ohio
is a statewide foreclosure prevention effort aimed at helping Ohioans keep their homes.
Previous reading on BC:
Capacity, funding could hurt demolition initiative (9/25/12)
Photos: New Northside NSP2 rehabs (9/10/12)
Price Hill Will continues to win awards (6/28/12)
Two Hamilton Co projects win affordable housing tax credits (4/12/12)
Ohio awarded additional $148M in Hardest-Hit foreclosure funding (8/12/10)