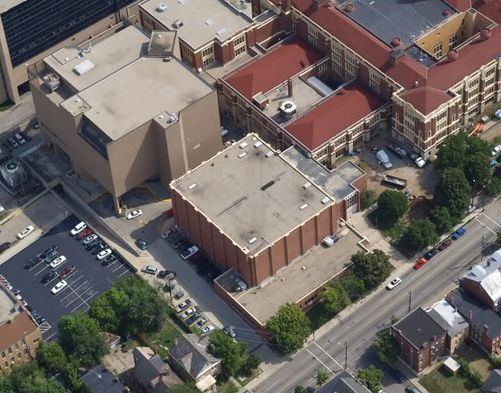 Cincinnati City Council has agreed to sell a building on the
Hughes Center High School
campus in Clifton Heights to
Cincinnati Public Schools (CPS)
for $1.
A sale agreement with the CPS board for the Edward Krueck Athletic Building, located
at 2515 Clifton Avenue
, was approved by City Council last Wednesday.
Jointly constructed by the City and CPS on school district property in 1971 for $1.9 million, the public recreation center was closed following the discovery of asbestos during the school's renovation project in 2007.
The costs of asbestos remediation were estimated at $750,000, and the building has remained vacant ever since.
CPS has not announced any plans for the building.
Photo courtesy of the Ohio School Facilities Commission (edited)
Previous reading on BC:
CPS aerial updates (11/11/08)
CPS aerial photos (9/24/08)