The City of Cincinnati's Economic Development Division has received a Gold Excellence in Economic Development Award for its involvement in the redevelopment of the American Can Building in Northside.
The award was announced at the
International Economic Development Council's (IEDC)
2012 Annual Conference, held last weekend in Houston.
Between 2003 and 2011, the City worked with developer
Bloomfield/Schon + Partners
and multiple community groups to redevelop the 180,000 square foot building
at 4101 Spring Grove Avenue
into 110 apartments, 12,000 square feet of commercial space, a clubhouse, and a fitness center.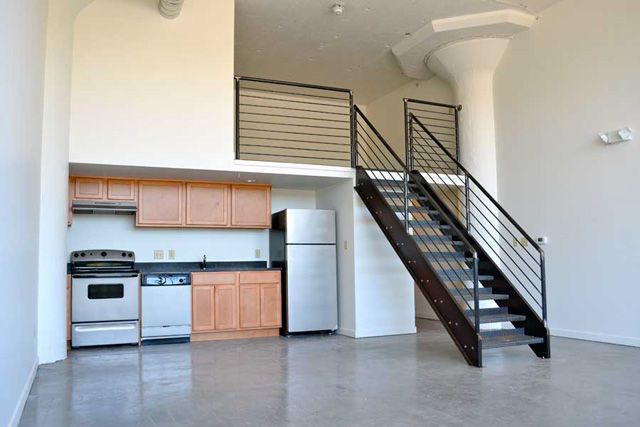 The City contributed $2.35 million to the project, leveraging $19.5 million in private investment. The IEDC award recognizes the City's assistance in creative financing, historic restoration, and brownfield remediation.
"The City of Cincinnati's emphasis on neighborhood investment and economic development lends itself to a stronger Cincinnati for everyone," City Manager Milton Dohoney said in a prepared release. "This award recognizes Cincinnati for its commitment to its communities and its successful practices that set a high bar for other cities around the globe."
Built in 1921 and listed on the
National Register of Historic Places
, the American Can Building operated as a manufacturing plant until 1978. Between 1978 and 2003, the building fell into decay as it saw only light usage.
The apartments at
American Can Lofts
are fully leased.
Photos courtesy of Bloomfield/Schon + Partners
Previous reading on BC:
City soliciting proposals for former Northside lumber yard (7/30/12)
Northside's Factory Square set to begin (6/22/10)
Factory Square photo update, 4/4/09 (4/22/09)
ODOD: Forcing tax credit approvals would 'offend constitutional separation of powers' (5/16/08)
Ohio developers file writ with Supreme Court over tax credit program (4/11/08)