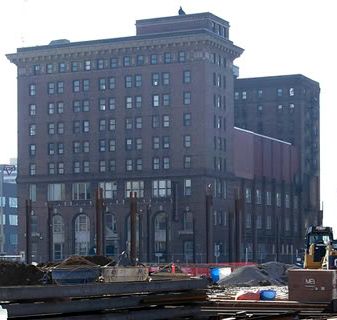 Cincinnati City Council on Wednesday approved a settlement agreement with the
Cincinnati Metropolitan Housing Authority (CMHA)
that will help fund a $25 million redevelopment of the
Central Parkway YMCA
, located at 1105 Elm Street in Over-the-Rhine.
The agreement forgives nearly $1.9 million owed by CMHA for 308 units of housing not built as part of two funding agreements, signed in 2001 and 2002, to redevelop
the Lincoln Court and Laurel Homes sites
as part of the City West project. Those units were not built due to cost overruns.
Those funds will be channeled into the YMCA project, turning 225 long-vacant dormitory style units on the building's fourth through ninth floors into 65 affordable housing units for senior citizens. The first three floors will include a renovated wellness facility and offices.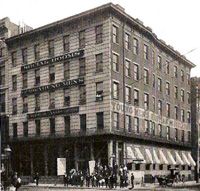 Council also approved a resolution supporting the
Model Group's
application for federal Low Income Housing Tax Credits and future gap financing. If approved, construction could begin next fall.
Additional project partners include the
Cincinnati Center City Development Corporation (3CDC)
and
Episcopal Retirement Homes, Inc.
The Central Parkway YMCA opened in 1918 and was the third building to house the organization's local headquarters, following the Heyl House
at the southeast corner of W Sixth and Elm streets
(1871) and a building on the northwest corner of E Seventh and Walnut streets (1891), which later became the
Shubert Theater
.
Previous reading on BC:
Council supports historic tax credits for Downtown, OTR, Walnut Hills projects (10/2/12)
3CDC buys endangered buildings on lower Main Street (9/5/12)
Ohio Dept of Development, Fed Home Loan Bank award money for projects (6/28/12)
Survey to gauge Hamilton County's emerging housing needs (6/18/12)
Hartwell has new plan for Vine Street (5/14/12)