The Banks Public Partnership
is soliciting bids for
Bid Package #12-2
, consisting of approximately $5.4 million in public infrastructure improvements along the Cincinnati riverfront.
The improvements will include construction of a pedestrian bridge
at Broadway and E Pete Rose Way
; an intermodal transportation staging area along Broadway, between E Pete Rose Way and E Third Street; a river walk along Mehring Way; and a new pedestrian connector between Theodore M. Berry Way and the John A. Roebling Suspension Bridge.
A pre-bid conference will be held October 18 in Room 605 Hamilton County Administration Building, located
at 138 E Court Street
. Bids will be opened November 1 at 11 A.M.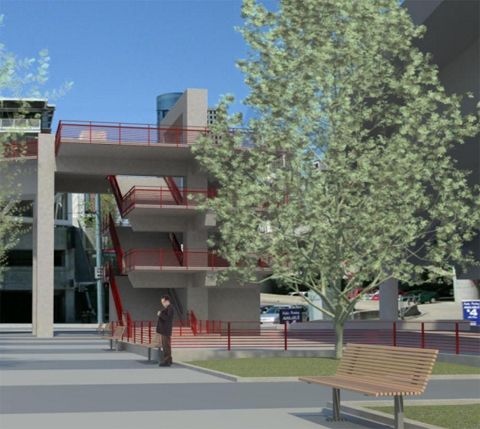 Contractors must be pre-qualified by the
Ohio Department of Transportation
. For more information, contact Hamilton County purchasing agent Gina Richmond at (513) 946-4321.
Part one of the bid package, which will include the reconstruction of Freedom Way between Rosa Parks and Walnut Streets, the removal of Race Street south of Freedom Way, Second Street pedestrian improvements, and security cameras, will be put out to bid by the end of the year.
Images courtesy of The Banks Public Partnership
Previous reading on BC:
'Connect the Blocks' seeks to unite business district, riverfront (9/26/12)
The Banks team to hold contractor open house (7/30/12)
Study: Current phase of The Banks to have $91.6M annual economic impact (5/23/12)
New website showcases living options at The Banks (1/26/11)
Riverfront road closure allows The Banks work to progress (1/17/11)