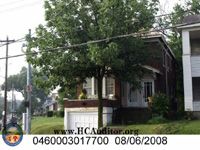 NEIGHBORHOOD:
Hyde Park
YEAR BUILT:
1920
USE:
Three-family dwelling
OWNER:
ISM Group Inc.
ASSESSED VALUE:
$75,000
HAZARD:
--
CONDEMNED:
--
ORDERS:
April 2011, for electrical wiring, plumbing and ventilation, interior and exterior handrails, smoke detectors, deteriorated masonry, exterior steps, windows, exterior paint, cornice, gutters and downspouts. Orders reissued to new owner in July 2011.
REASON RAZED:
Demolished for redevelopment. No plans or permits have been submitted. Michael Mauch of
RWA Architects, Inc.
is listed as the registered agent for ISM Group Inc.
MAP