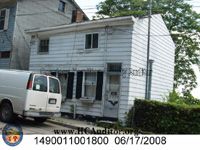 NEIGHBORHOOD:
Lower Price Hill
YEAR BUILT:
1940
USE:
Single-family dwelling
OWNER:
Infinity Ventures LLC
ASSESSED VALUE:
$1,300
HAZARD:
--
CONDEMNED:
April 2010, for a failing roof structure, bulging front wall, and a collapsing front foundation. The owner claimed that the City's Department of Transportation and Engineering planned to purchase the building for a ramp extension, so he wouldn't put any money into fixing the building. Orders reissued in April 2011.
ORDERS:
--
REASON RAZED:
Razed privately to close out orders.
MAP