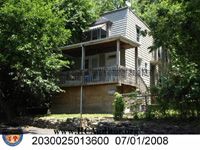 NEIGHBORHOOD:
South Fairmount
YEAR BUILT:
1875
USE:
Single-family dwelling
OWNER:
Joseph Anthony Tepe
ASSESSED VALUE:
$10,000
HAZARD:
--
CONDEMNED:
March 2012, damaged by a fire that damaged the rear staircase, side foundation wall, and roof. Hillside slippage caused partial collapse of the building's addition.
ORDERS:
--
REASON RAZED:
Razed by the owner to close out orders.
MAP