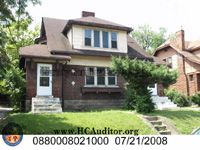 NEIGHBORHOOD:
Mount Auburn
YEAR BUILT:
1920
USE:
Two-family dwelling
OWNER:
HPL Realty Company LLC
(The Christ Hospital)
ASSESSED VALUE:
$13,190
HAZARD:
--
CONDEMNED:
--
ORDERS:
None since 2007.
REASON RAZED:
Razed for a temporary valet parking lot for The Christ Hospital, made necessary due to the hospital's $265M expansion. The expansion project includes a new 332,000-square-foot orthopaedic and spine center, a new materials management building, and a 900-space visitor parking garage.
MAP