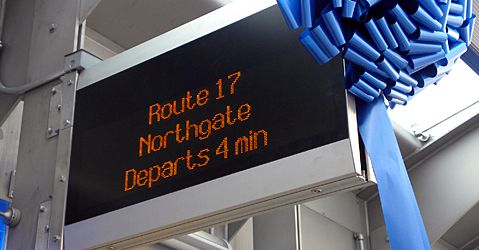 Riders catching a
Cincinnati Metro
bus at Government Square will no longer have to wonder when it will arrive thanks to new electronic information boards, unveiled on Friday.
The new boards, similar to departure boards at airports, utilize the GPS devices installed on Metro buses in 2011 to provide real-time information on what time each bus will depart each of the transit center's eight shelters.
A "master" information board, installed
at the corner of Fifth and Walnut streets
, will display information for all buses serving Government Square.
All boards also feature a button that riders with disabilities can push to hear the information being displayed.
Real-time information boards also will be installed at the Glenway Crossing Transit Center and in the new Uptown Transit District, which begins construction later this year.
The info will also be available on the Metro website and, in the near future, on new smartphone apps.
Photo courtesy of Cincinnati Metro.
Previous reading on BC:
Metro news: vendor fair, rail manager, 'Dump the Pump' event (6/20/12)
Cyclists ride buses for free tomorrow (5/16/12)
Metro unveils new system map (3/16/12)
Metro to update regional transit plan, study Uptown service (3/15/12)
Metro adds three hybrid buses to fleet (8/5/10)