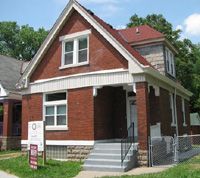 A Covington house rehabilitated with the help of federal Neighborhood Stabilization Program grant funds will be open to the public this afternoon from 2 P.M. to 4 P.M.
The two-bedroom house,
at 330 E 18th Street
in the city's Austinburg neighborhood, is
Housing Opportunities of Northern Kentucky's (HONK)
first rehab completed in partnership with the
Brighton Center
.
Improvements include new mechanicals, new insulation, a new roof, and all new finishes, HONK Executive Director David Hastings said in a prepared release.
"This house had seen better days before we started on it," he said. "It had been through foreclosure and was really in need of significant investment. Now we're standing in a home that has been fully rehabbed."
Steve Lutkenhoff, HONK's construction manager, hopes that the partnership with the Brighton Center can continue.
"While we used some of our own volunteers, staff, and other subcontractors on this home, it was Brighton Center's Construction and Manufacturing Technologies Program that really made a difference here," he said.
The house is one of four affordable homeownership opportunities that HONK has completed on E 18th Street in the last eight months.
An additional two HONK houses – one rehabilitated at 334 E 18th Street and one new construction at 618 E 17th Street – also will be open to the public today.
Over 20 years, the faith-based nonprofit has rehabbed 75 homes and built 36 homes in Northern Kentucky, creating affordable homeownership opportunities for qualified low-income homebuyers.
Potential buyers either have to have the income and credit to support a mortgage right away, or work to achieve it through HONK's lease-purchase program. The program allows prospective homeowners to save for a down payment, build credit, and get used to the utility costs and maintenance expectations in the home they are working to purchase.
Sales prices are based on the market values of surrounding homes.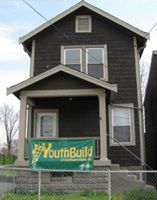 Additional opportunity
A house rehabilitated in partnership with YouthBuild,
at 1504 Kavanaugh Street
in Covington, was unveiled yesterday.
"YouthBuild does such great work and this project has been no exception," Hastings said. "The prior owners used the house as a good rental property for many years. Our goal was to take it up a notch and make improvements that would provide a quality homeownership opportunity to a local family."
That property was HONK's third project with
YouthBuild
, a Northern Kentucky Community Action Commission program that helps youths ages 16 to 24 earn their GED and enroll in post-secondary education while learning construction and other job skills.
"What a great model this partnership is to transform lives and improve our community at the same time," Hastings said.
Photos courtesy of HONK.
Previous reading on BC:
HONK creates two new homeownership opportunities in Ludlow (7/2/12)