Mill Creek Restoration Project (MCRP) has a new name and a $100,000 grant to expand its environmental and education programs.

The new name, Groundwork Cincinnati/Mill Creek, was announced this morning during a ribbon-cutting ceremony for the Mill Creek Greenway Trail, a three-mile bike-hike trail extending along the urban stream from Winton Road in Spring Grove Village to Mill Creek Road in Camp Washington.

Following a highly-competitive, 18- to 24-month process, Groundwork Cincinnati/Mill Creek is now part of a network of 20 nonprofit trusts under the Groundwork USA umbrella.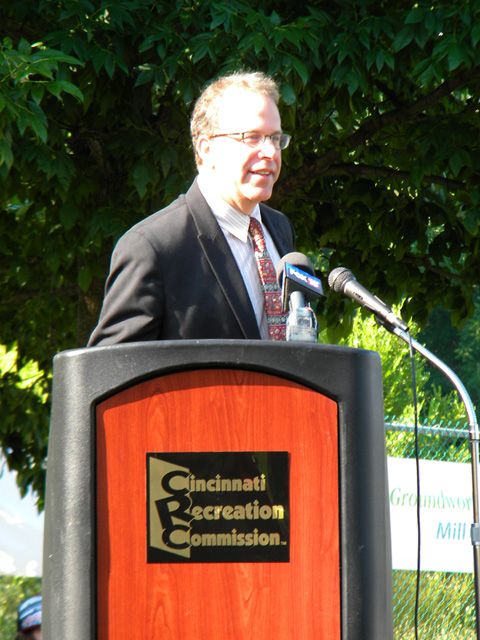 Rick Magder, director of Groundwork USA, made the announcement.

"What this really is about is this great park," he said. "The Mill Creek greenway is the central project of this new Groundwork organization."

In 1996, the National Park Service Rivers and Trails Program and the U.S. Environmental Protection Agency Office of Brownfields and Land Revitalization launched the initiative in the United States and, in 2003, Groundwork USA was formed to support and strengthen the growing number of local Groundwork trusts.

Locally, work to restore the Mill Creek corridor began with MCRP's founding in 1994, but ramped up after the national advocacynonprofit American Rivers named the creek as the nation's most endangered urban waterway. A master plan was created in 1999, and City participation was approved by City Council in 2000.

"Nothing happens overnight," said Cincinnati Vice Mayor Roxanne Qualls. "That [American Rivers assessment] was obviously a wakeup call."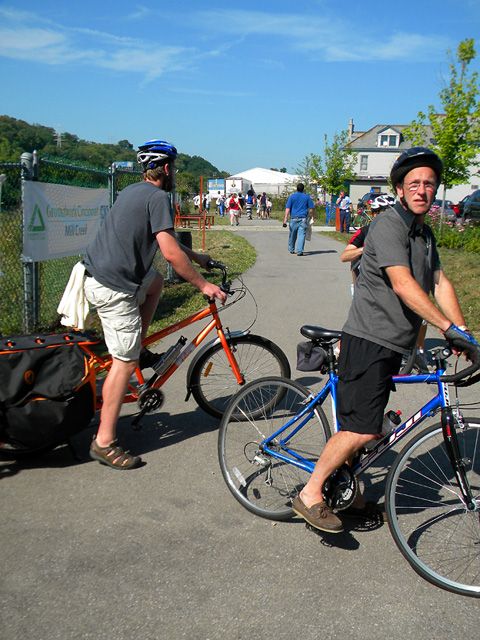 The grant will be used to further Groundwork Cincinnati/Mill Creek's mission to construct its bike-hike trail, restore the ecology of the Mill Creek, eliminate blight, and educate and engage the community – and to add a Healthy People/Healthy River strategy and a Green Team summer youth program as well.

"The money that has been invested in this project has seen a tremendous amount of return on the investment of City money in state and federal grants," Qualls said. "Not only was the vision right in 1997, but also the belief that we could do it is absolutely right."

"A lot of unglamorous things have to happen to make partnerships work," said State Senator Bill Seitz, who helped push through the original Clean Ohio Fund legislation that made money available for the revitalization of brownfields, the preservation of farmlands, and the addition of green space and trails. Governor John Kasich approved a $42 million appropriation for the program in his Mid-Biennium Review Bill, signed into law a week ago.


"The partnership with Groundwork USA is especially exciting," Seitz said. "It takes the partnerships of larger organizations that can make these things sustainable, because of economies of scale."

In addition to the $100,000 grant, even more funding was announced this morning.

Rick Lisi, president of the Cincinnati Audubon Society of Ohio, announced that the National Audubon Society and Toyota have awarded Groundwork Cincinnati/Mill Creek a $50,000 TogetherGreen Innovation Grant to restore a three-acre wetland; plant an edible forest garden along the Mill Creek for birds, wildlife, and people; and provide education to the youth of the Lower Mill Creek Valley on birds and their habitats.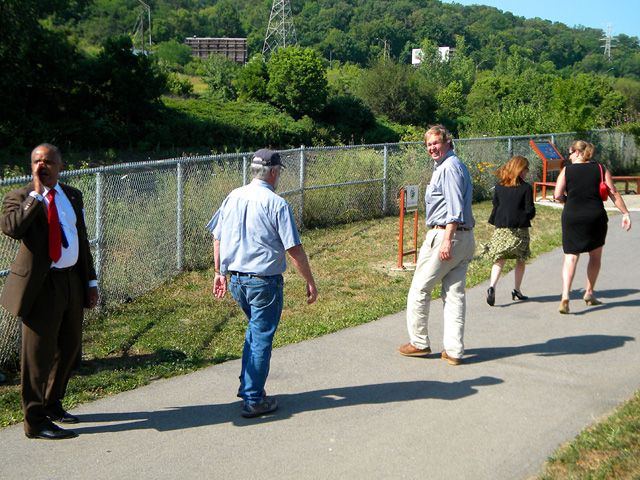 "The Mill Creek project is one of those projects that makes learning come alive," said Cincinnati Public Schools Superintendent Mary Ronan, adding that such projects help students learn about making an individual and collective difference through service projects, leadership, green job opportunities, and healthy living.

"I cannot be more pleased with this wonderful opportunity for our young people," she said.


Following the ceremony and ribbon-cutting the more than 200 people who attended – including schoolchildren from Winton Montessori School, Chase Elementary, and Pleasant Hill Academy – were invited to walk or bike the trail.

When completed, the hike-bike trail will extend 28 miles from the Mill Creek headwaters in Liberty Township to a planned park on the Ohio River, where it would tie into the Ohio River Trail.

A 2009 study by the University of Cincinnati Applied Economics Research Institute concluded that the City of Cincinnati's 12.5-mile portion of the trail would create an economic impact of $52.18 million and at least 445 jobs.

DISCLOSURE: Building Cincinnati has provided photography for signage along the Mill Creek Greenway Trail.

Previous reading on BC:
Federal Office of Water head gets tour of Mill Creek, solidifies partnership (5/29/12)
MCRP makes pitch for Mill Creek trail funds (11/17/09)
Mill Creek greenway project wins $500K grant (10/12/09)
Report: Mill Creek trail could create 445 jobs, $52 million economic impact (9/8/09)