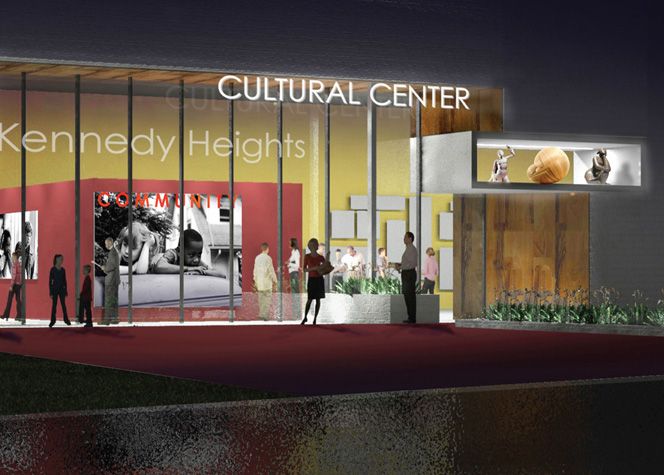 A groundbreaking ceremony was held Thursday morning for the Kennedy Heights Cultural Center, a project that could serve as a model for the redevelopment of other urban neighborhoods.

The $3.1 million project will turn the vacant, 32,676-square-foot Kroger and Furniture Fair building at 6620 Montgomery Road into the Cincinnati Art Museum's first off-campus site, with a gallery, educational space, and storage; event, studio, and gallery space for the Kennedy Heights Arts Center; and a relocated Kennedy Heights Montessori Center, currently in Pleasant Ridge.

"For Kennedy Heights, this is a delicious, marvelous day," said Ernie Barbeau, chair of the Kennedy Heights Development Corporation (KHDC). "We have, without question, come a long way."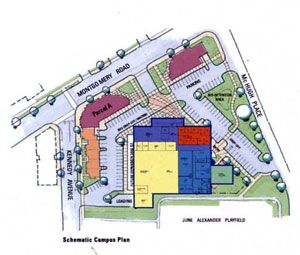 The building's use as a cultural center was first envisioned in the 2007 Kennedy Heights NBD Urban Design Plan. The City purchased the property for $720,000 last year, and approved a sale and development agreement with KHDC in late March.

More than 20 redevelopment proposals have been submitted for the site, vacant for more than ten years. Barbeau said that all of those proposals were measured against one metric.

"Can the redevelopment proposal significantly enhance our business district for a long time?" he said. "The cultural center has the potential to transform our business district, and what you and I think about our precious neighborhood."

Construction is expected to begin in September, with a grand opening scheduled for April 2013.


Neighborhood energized

The groundbreaking was part of the wrap-up of the 90-day Neighborhood Enhancement Program (NEP) blitz, one that brought together City departments, neighborhood businesses and residents, and volunteers in an effort to eliminate blight, cut crime, and rejuvenate the neighborhood's assests.

The program resulted in 945 property inspections, with 36.7 percent having code violations. The Keep Cincinnati Beautiful blight index dropped 9.1 percent.

"Obviously there has been a lot of community participation in NEP, and that's what makes this program go," said City Manager Milton Dohoney.

Police Chief James Craig said that neighborhood crime has dropped by 16 percent in the past year, and breaking and entering crimes have dropped by 60 percent.

District Two police also instituted several stings to curb prostitution activity and held a domestic violence rally attended by more than 60 people, he said.

"This really is a victory," Craig said. "When I look around and look at the collaborative with business, residents, police, fire – that's how we win. That's how we transform neighborhoods."

Kennedy Heights Community Council President Natalie Boyer said that the NEP has "excited and energized" the neighborhood.

"The difference between today and 90 days ago when NEP began is tremendous in Kennedy Heights," Boyer said. "The program has acted as a catalyst for planning additional incentives beyond the 90-day window."

Kennedy Heights is the thirteenth neighborhood to host the NEP. The program will go to the Pendleton neighborhood in August.

Previous reading on BC:
Kennedy Heights Cultural Center a go (3/26/12)
Tomorrow a big step for Kennedy Heights cultural anchor (3/15/12)
Kennedy Heights overlay added to Municipal Code (4/2/08)
EDC to consider Kennedy Heights overlay district (3/21/08)
Kennedy Heights Urban Design Plan approved (12/24/07)