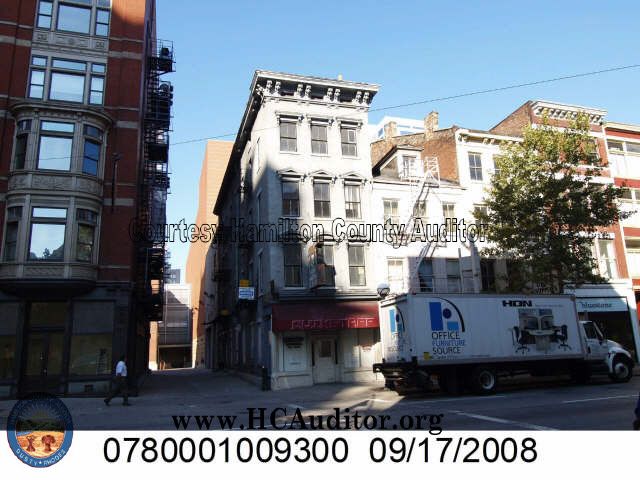 The City of Cincinnati Historic Conservation Board (HCB) has voted unanimously to support its staff recommendation to deny a certificate of appropriateness that would allow for the demolition of 625 Main Street, the building once occupied by the Bay Horse Café.

Ed Gabriel, a partner in the 625 Main Street LLC ownership group, told the board that his building has been subjected to damage caused by trucks entering and exiting Gano Street to make deliveries to the Aronoff Center for the Arts and various Sixth Street businesses.

The trucks were responsible for damage to the building's fire escape, which the Aronoff Center recently removed.

"It's been an ongoing issue," Gabriel said. "The problem is, my partner and I have considered maybe remodeling the first floor, and maybe putting some condos in the upper floors. It just doesn't make sense to put money in a building with the possibility of more damage."

The building has been largely vacant since 2005, when the Bay Horse Café was shut down for operating without a liquor license and for a history of police calls, including one for a daytime shooting right outside its front door. A new tenant was moved in, but was evicted in 2007 for failure to pay rent.

Little interest has been shown in the building, Gabriel said, which has seen its asking price drop from $375,000 in 2007 to $214,000 today.

The loss of the fire escapes means that the upper floors must be left vacant, making its sale more difficult.

"Basically, there is no economic value in this building," Gabriel said. "Its use is very limited. I'm apparently not the only one who doesn't see any value in it."

625 Main Street LLC has owned the building since 2002, when it purchased the property for $234,000. The bar subsidized the rental units, which were not profitable.

Gabriel admitted that the condition of the building hasn't changed much since its purchase. The property has been cited twice for cracked masonry and broken window lintels.

"We've basically lost about $300,000 so far," Gabriel said.

Gabriel said that a ten-space surface parking lot would replace the building, generating $200,000 a year.

"It seems to me that maybe the reason the other [Ft. Washington Condominiums] building's not being hit is because yours looks so bad and hasn't been maintained," said HCB member Ken Jones. "I have a hard time believing the argument. If, as you said, you could make a living with just the bar, then why can't someone else do that?"

And Jeffery Waite, who owns 639 Main Street, testified that seven buildings on the block – including his – have been renovated, with their 23 apartments enjoying full occupancy.

"I think we have a really clear case here of why we have historic conservation laws," said Paul Muller, executive director of the Cincinnati Preservation Association. "There's a new climate Downtown where these buildings are being given new economic life."

625 Main Street LLC may still appeal the HCB decision before the Board of Zoning Appeals.