Construction should begin soon on Delta Flats, a 76-unit market-rate apartment development on the northwest corner of Columbia Parkway and Delta Avenue.

Towne Properties and Al. Neyer, Inc. are seeking a City grant and loan package of $1.3 million for the $8 million project, which they hope will attract young professionals and raise the viability of the nearby Columbia Square development.

The project, registered with the U.S. Green Building Council as LEED for Homes Multi-Family 1.0, is scheduled for completion next summer.

But some in Columbia Tusculum have reservations about the project's design, which was produced by CR Architecture + Design.

In a June 6 letter to Vice Mayor and Budget and Finance Committee Chair Roxanne Qualls, residents Cynthia Walker and Arlene Golembiewski panned the "generic, uninspired design".

"Our ambition is not to derail the project because we support the underlying development concept and expect it to contribute to neighborhood vitality by expanding housing options, adding population and increasing support for local businesses," the letter said. "However, we feel the architectural design does not convey a quality project that will have longevity comparable to the neighborhood itself."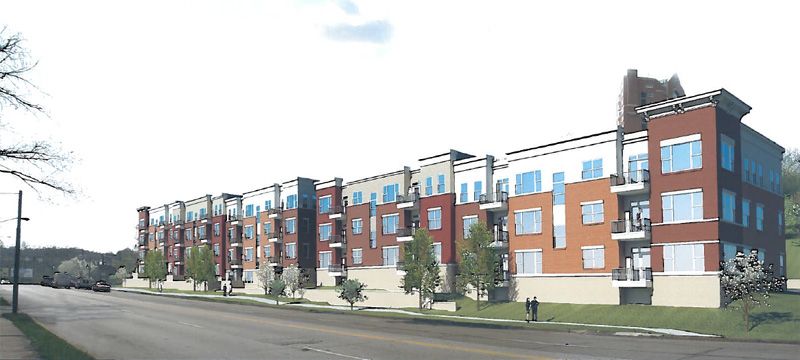 According to Walker and Golembiewski, the building renderings show a lack of regard for the local architectural context, with numerous material variations, irregular windows, and "a jumble of textures".

"The overall effect combines to create a hybrid style that does not relate to anything in the neighborhood and appears cluttered," the letter said.

Both agree that aesthetics are subjective, but believe that the City should exercise its limited design controls – since City money likely will be involved – to produce a project that's inspired by the neighborhood in which it will be built.

"The Columbia Tusculum neighborhood already lost one defining development opportunity with the suburban design and layout of Columbia Square," the letter said. "It would be another lost opportunity to not reinforce the unique character of our neighborhood due to context-neutral or generic architecture of the Delta Flats project."

The Columbia Tusculum Community Council has voted to endorse the plan, and has recommended that the City undertake a traffic and pedestrian study of the corner to ensure the safety of the new residents.

Previous reading on BC:
Butterfield Alley renamed for Van Volkenburgh (11/19/09)
Cincinnati to sell streets for Columbia Square (2/26/08)