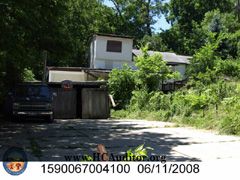 NEIGHBORHOOD:
Riverside
YEAR BUILT:
1910
USE:
Single-family dwelling
OWNER:
HBK Investments LLC
ASSESSED VALUE:
$39,310
HAZARD:
November 2008, adding roof and gutters. By late 2011, vermin had taken up residence.
CONDEMNED:
November 2007, for trespassers, water damage, broken or missing windows and doors, an unstable exterior deck, a vandalized interior with holes in the walls and broken glass, weeds. Building part of bankruptcy proceedings.
ORDERS:
--
REASON RAZED:
Declared a public nuisance and entered into the City's hazard abatement program.
MAP