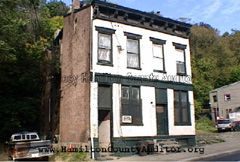 NEIGHBORHOOD:
Clifton Heights
YEAR BUILT:
1890
USE:
Three-family dwelling
OWNER:
Ricky E. Kindell
ASSESSED VALUE:
$63,800
HAZARD:
April 2010, now adding litter and debris, a cracked and separating foundation, deteriorated gutters and downspouts, and bricks falling into the public right-of-way. In the criminal case, a capias warrant for $1,000 was issued in March 2011. The case dismissed in April 2012.
CONDEMNED:
October 2009, for damaged roof, cornice, stairs, windows, lack of paint, and lack of water and utilities. A criminal case was filed in March 2010.
ORDERS:
January 2006, ordered barricaded due to windows on the upper floors being broken out. Ordered vacant in December 2006.
REASON RAZED:
Declared a public nuisance and entered into the City's hazard abatement program.
MAP