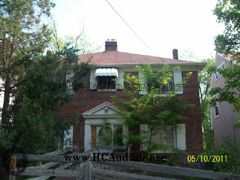 NEIGHBORHOOD:
Avondale
YEAR BUILT:
1938
USE:
Charity/hospital/retirement home
OWNER:
Erkenbrecher Properties LLC
(Ronald McDonald House)
ASSESSED VALUE:
$60,000
HAZARD:
--
CONDEMNED:
--
ORDERS:
June 2005, for porch guardrails. New orders in August 2007 for gutters and downspouts, exterior paint, windows, and porch guardrails. Foreclosed in late 2008, orders re-issued to
Fannie Mae
. Re-issued to current owner in March 2009. Re-issued May 2011.
REASON RAZED:
Razed by adjacent property owner Ronald McDonald House, with no plans for the property announced.
MAP