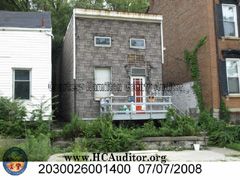 NEIGHBORHOOD:
South Fairmount
YEAR BUILT:
1875
USE:
Single-family dwelling
OWNER:
TC Funding Group LLC
ASSESSED VALUE:
$20,000
HAZARD:
December 2010, added a deteriorated front porch.
CONDEMNED:
May 2010. In criminal status, although the owner has not been cooperative.
ORDERS:
February 2009, for siding, service entrance electrical cable, soffit, and gutters and downspouts. Ordered barricaded and vacated in January 2010, now with missing or vandalized mechanicals, broken windows, and trash.
REASON RAZED:
Declared a public nuisance and entered into the City's hazard abatement program.
MAP