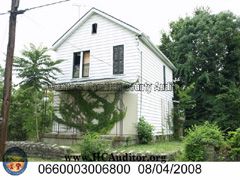 NEIGHBORHOOD:
Walnut Hills
YEAR BUILT:
1890
USE:
Two-family dwelling
OWNER:
Sallie Chenault
ASSESSED VALUE:
$38,660
HAZARD:
February 2011, added deep cracks in the foundation and a large hole in the rear wall.
CONDEMNED:
June 2009.
ORDERS:
June 2005, for roof, gutters and downspouts, cornice, and windows. The City ordered it barricaded and vacated in November 2005, though the house was already vacant. Another barricade was requested in January 2006 due to vandalism and drug activity. In February 2008, orders were re-issued. It was discovered that the owner was deceased.
REASON RAZED:
Declared a public nuisance and entered into the City's hazard abatement program. The
Harriet Beecher Stowe House
would like to see the property acquired for parking.
MAP