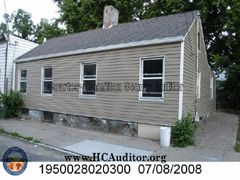 NEIGHBORHOOD:
Northside
YEAR BUILT:
1890
USE:
Single-family dwelling
OWNER:
BJC Investment LLC
ASSESSED VALUE:
$27,100
HAZARD:
June 2009. That same month, a criminal complaint was filed after a couple of no-shows for pre-prosecution hearings. In August 2009, diversion was granted. In March 2010, the owner filed for a demolition permit. By January 2012, the City had had enough of the lack of activity and dropped the owner from the diversion program.
CONDEMNED:
December 2008, due to vandalism, water damage, and a lack of operable kitchen or bathrooms (or anything else inside).
ORDERS:
October 2007, City ordered the vacant house barricaded due to drug activity. The following month, orders were issued for the chimney, windows, foundation, and exterior paint. New siding was installed, and it looked like, by late 2008, some interior work was likely to begin.
REASON RAZED:
Declared a public nuisance and razed privately.
MAP