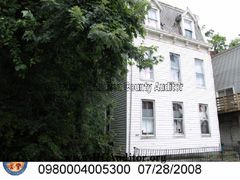 NEIGHBORHOOD:
University Heights
YEAR BUILT:
1886
USE:
Two-family dwelling
OWNER:
Richard Moore
ASSESSED VALUE:
$77,610
HAZARD:
December 2009.
CONDEMNED:
October 2008, utilities shut off.
ORDERS:
Dating to April 2007, for retaining wall guardrail, fence, gutters and downspouts, siding and paint, broken windows, exterior handrail, obstructed exits, and trash. The City ordered it barricaded and vacated in July 2008. The owner and the executor were both found to be deceased and the estate was not probated.
REASON RAZED:
Declared a public nuisance and entered into the City's hazard abatement program.
MAP