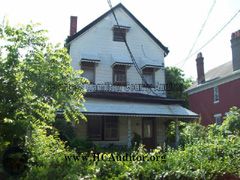 NEIGHBORHOOD:
Evanston
YEAR BUILT:
1903
USE:
Single-family dwelling
OWNER:
1919 Clarion LLC
ASSESSED VALUE:
$5,000
HAZARD:
July 2010. Building later purchased at land sale, but new owner could not afford bond.
CONDEMNED:
November 2009, adding roof, collapsing ceilings, and a collapsed rear porch.
ORDERS:
Dating back to July 2009, for barricading, chimney, gutters and downspouts, soffit, paint, broken and missing windows, steps, exterior handrail, and trash.
REASON RAZED:
Declared a public nuisance and entered into the City's hazard abatement program.
MAP