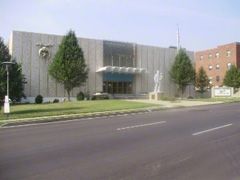 NEIGHBORHOOD:
Corryville
YEAR BUILT:
1960s
USE:
Commercial office
OWNER:
Taft Offices LLC
ASSESSED VALUE:
$6,159,200 (includes 237 Wm H Taft)
HAZARD:
--
CONDEMNED:
--
ORDERS:
--
REASON RAZED:
Formerly home to the
Syrian Shrine Temple
, the building was razed as part of the $3M Taft Offices project being led by
Al. Neyer, Inc.
, which will include construction of 44,000 square feet of LEED-certified office space, 25,000 square feet of dedicated storage space, and 700 parking spaces.
The Christ Hospital
will serve as the primary tenant, occupying approximately half of the building.
MAP