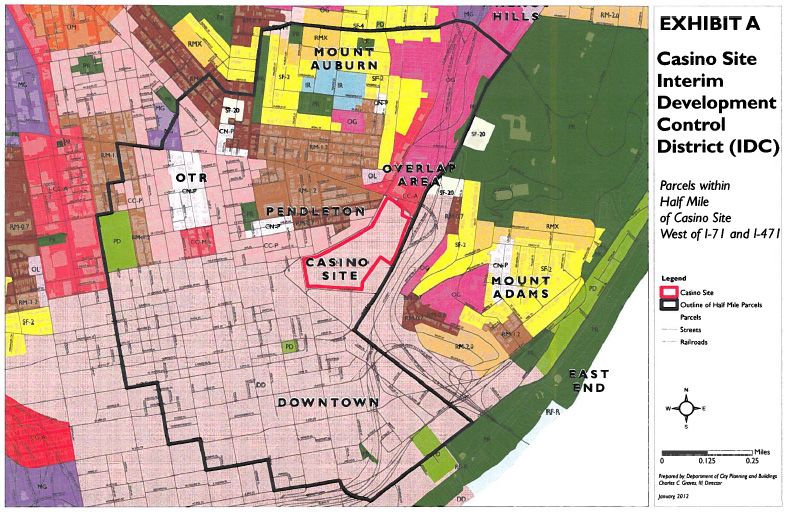 An overlay district meant to study the compatibility of land uses within a half of a mile of Cincinnati's new casino has been extended for an additional nine months by Cincinnati City Council.
Interim Development Control Overlay Districts (IDCs), as established in Section 1431-01 of the
City's zoning code
, temporarily regulate the establishment of uses, construction of new buildings, and demolition or alteration of existing structures in area where the adoption of amendments to the zoning code have been proposed in a plan approved by the City Planning Commission.
The plan in question, the Broadway Commons District Plan developed by
Bridging Broadway
and the
University of Cincinnati Community Design Center
, was approved by the City Planning Commission on January 20. On January 25, City Council established IDC 66 for a period of 90 days.
The extension means that IDC 66 will remain in effect until January 25, 2013. The additional time will allow the Department of City Planning and Buildings to study potential zoning changes that could substantially affect the permitted uses within the IDC, which has proven to be complex.
Within the IDC, permits for certain types of establishments are subject to City Planning Commission review, including pawn shops, jewelry or gold exchange stores, video stores, novelty stores, tobacco stores, liquor stores, check cashing shops, bail bonds, convenience markets, commissaries, massage parlors, bingo parlors, pool rooms, and sexually-oriented businesses.
The $400 million, 354,000-square-foot
Horseshoe Casino Cincinnati
is currently under construction and is scheduled to open in spring 2013.
Previous reading on BC:
Registration open for final Bridging Broadway visioning session (3/15/11)
Casino breaks ground, design work remains (2/7/11)
Casino celebration, fundraiser open to all (2/3/11)
Casino groundbreaking Feb. 4; Visioning continues (1/24/11)
Bridging Broadway outreach continues Saturday (1/20/11)