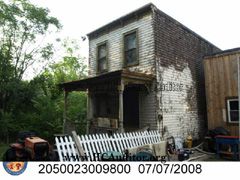 NEIGHBORHOOD:
Westwood
YEAR BUILT:
1900
USE:
Single-family dwelling
OWNER:
Ilona Toke
ASSESSED VALUE:
$11,970
HAZARD:
September 2010.
CONDEMNED:
January 2010, now with a collapsing roof, floors, and ceilings and missing or vandalized mechanical systems. Owner deceased.
ORDERS:
September 2006, ordered vacated. Violations included gutters and downspouts, cornice, siding, peeling exterior lead paint, broken and missing windows, rotted porch, and trash. Board of Building Appeals upheld the orders in November 2007.
REASON RAZED:
Declared a public nuisance and entered into the City's hazard abatement program.
MAP