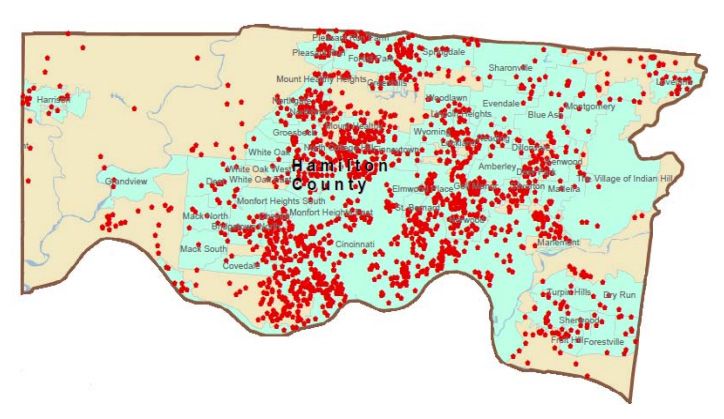 New foreclosure filings fell 13 percent and foreclosed properties sold at Sheriff's Sale dropped 31.4 percent in Hamilton County in 2011, according to
The Foreclosure Crisis in Hamilton County: Is the End in Sight?
, the ninth annual study of foreclosures released on Wednesday by Working in Neighborhoods (WIN).
According to the report, 2,018 foreclosure actions were completed in 2011. Cincinnati lost 787 properties to foreclosure sales, followed by Colerain Township with 168 and Springfield Township with 101. Of the Cincinnati neighborhoods, Westwood led the way with 103 foreclosure sales, with West Price Hill registering 80 sales and East Price Hill registering 54.
Nationally, foreclosure filings fell 34.3 percent in 2011. In Ohio, filings fell by 26.6 percent.
But the report cautions that the two-year downward trend in filings may not continue in 2012, as much of the slowdown can be attributed to last year's "robo-signing" crisis, rather than a stabilization or recovery of the housing market.
"Foreclosure proceedings stalled as a settlement between the nation's five biggest lenders —
Bank of America Corp.
,
JPMorgan Chase & Co.
,
Wells Fargo & Co.
,
Citigroup Inc.
and
Ally Financial Inc.
(formerly GMAC) — and forty-nine state Attorneys General worked its way through the courts," the report said. "In February 2012, the case concluded with a 25 billion dollar judgment against the lenders."
That settlement will compensate former homeowners who were victims of unscrupulous documentation practices, fund refinancing for homeowners who are "underwater" on their mortgages, and provide states with money for blight reduction, transitional assistance programs, and home preservation programs, the report said.
"
RealtyTrac
Vice President Daren Blomquist predicts that foreclosure rates will begin to rise this year as banks work through their backlog of unresolved cases," the report said.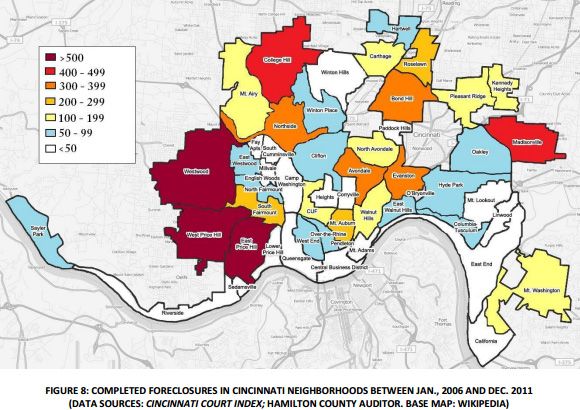 The report also examines the cumulative effects of foreclosure on the City's neighborhoods and the county's municipalities over the past six years, including in-depth case studies of Avondale, College Hill and Northside – three neighborhoods in which WIN's home preservation efforts have been focused.
"We found that all three neighborhoods experienced the foreclosure crisis early, suffering their highest numbers of completed Sheriff's Sales before the national mainstream media and the general public truly recognized the depths of the housing crisis," the report said. Avondale, Northside, and College Hill were, in a way, 'canaries in the coal mine' for the systemic problems in the housing and financial markets, including sub-prime loans, unsound appraisal practices, predatory lending, and so on, that exploded into full-blown economic recession—bank failures, a stock market crash, massive job loss—in the fall of 2008."
Research and analysis for the study was performed by Rigel Behrens, MCP, utilizing Sheriff's Sale listings and sale activity, the
Cincinnati Court Index
, RealtyTrac, and data from the Hamilton County Auditor's website.
Previous reading on BC:
City administration supports foreclosure pilot program (4/3/12)
Foreclosure report shows 2010 filings down, losses up (4/4/11)
Foreclosed properties getting a makeover in Westwood, Kennedy Heights (3/24/11)
Ohio awarded additional $148M in Hardest-Hit foreclosure funding (8/12/10)
Ohio one of five states to receive federal foreclosure funds (8/5/10)