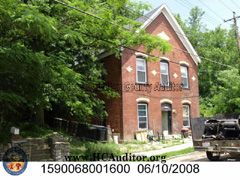 NEIGHBORHOOD:
Riverside
YEAR BUILT:
1880
USE:
Two-family dwelling
OWNER:
George M. Vandergraft
ASSESSED VALUE:
$5,330
HAZARD:
July 2011, added gutters and downspouts, retaining wall failed and trees and hillside surrounding the house.
CONDEMNED:
June 2010.
ORDERS:
Dating back to April 2003, for retaining wall, plaster, plumbing fixtures, unsecured door. In 2007, added hazardous wiring, lack of smoke detectors, paint, doors, and bathroom surfaces. The structure was ordered vacated in May 2008, cited additionally for water damage, trash, and vermin. Lost in foreclosure.
REASON RAZED:
Declared a public nuisance and entered into the City's hazard abatement program. House possibly abandoned.
MAP