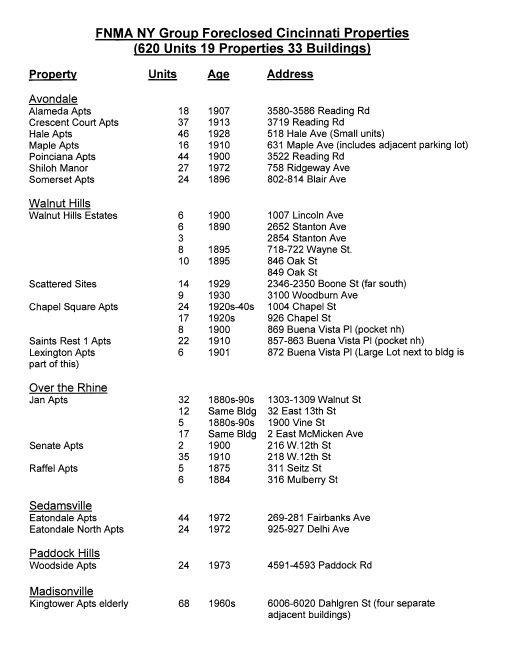 More than $60 million could be invested into the neighborhood of Avondale under a plan presented before City Council's Budget and Finance Committee last week.
The Cincinnati Multi-Family Consortium (CMFC), a group of 18 developers, community development groups, and lenders, has proposed the purchase of 33 project-based Section 8 buildings formerly held by Brooklyn-based New York Group.
The buildings, on 19 scattered sites in the neighborhoods of Avondale, Madisonville, Over-the-Rhine, Paddock Hills, Sedamsville and Walnut Hills, were purchased by New York Group in 2007 for $21.5 million.
New York Group lost the properties to foreclosure in 2010.
Fannie Mae
currently owns the mortgages, and
Wallick-Hendy Properties
is serving as the properties' interim manager.
The buildings suffer from years of deferred maintenance.

In December 2011, Fannie Mae held a public meeting in which participants decided to work as the CMFC, with
The Community Builders, Inc. (TCB)
, one of the nation's largest non-profit housing developers, serving as the lead.
TCB is considering an application to the U.S. Department of Housing and Urban Development for a
Choice Neighborhoods Implementation Grant
of up to $30 million to support the revitalization of seven properties in Avondale. Avondale was selected as a focal point due to its community infrastructure, recently-developed neighborhood vision plan, and its concentration of subject buildings along the Reading Road corridor.
The Transformation Plan would create a sustainable mixed-income community by linking housing improvements with appropriate services, schools, public assets, and access to jobs.
The deadline for the grant is April 10, with the awards announcement coming in December.
Negotiations are ongoing between Fannie Mae and TCB, and acquisition could be completed by late summer.
Established in 1964, TCB has completed or preserved more than 25,000 units of affordable, mixed-income housing. It manages almost 8,000 units at over 100 properties in 12 states, with regional hubs in Boston, Washington, and Chicago.