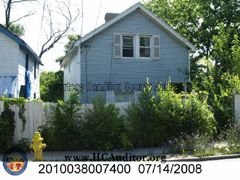 NEIGHBORHOOD:
Millvale
YEAR BUILT:
1910
USE:
Single-family dwelling
OWNER:
Washington Mutual Bank/CoreLogic
ASSESSED VALUE:
$20,430
HAZARD:
--
CONDEMNED:
November 2011. Added cracked foundation and building "sliding", in addition to unaddressed paint, soffit, siding, porch, and handrail issues.
ORDERS:
Ordered vacant in August 2010 due to damaged drywall, windows, downspouts, fence, and overgrown weeds. Vandalism and trespassing. Criminal status.
REASON RAZED:
Demoed by the owner to address code violations.
MAP