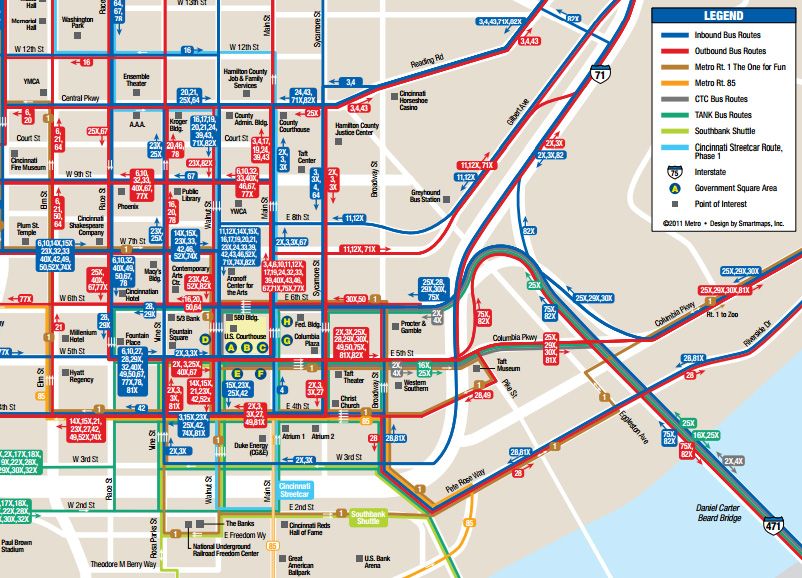 Cincinnati Metro
has updated its transit system map to more accurately highlight its full system and service area.
The new map, developed by Knoxville-based
Smartmaps Inc.
, includes bus routes for regional transit partners the
Transit Authority of Northern Kentucky (TANK)
and the
Clermont Transportation Connection (CTC)
.
In addition to being larger than the previous map, the new map includes a Downtown inset that shows Metro, TANK, and CTC routes. The route for Phase 1 of the Cincinnati streetcar is also included.
The updated map is available online, or can be acquired in printed form for free at the Metro Sales Office in the Mercantile Building,
120 E Fourth Street
, on weekdays between 7:30 A.M. and 5 P.M.
Pictured: A portion of the Cincinnati Metro transit map, Downtown inset.
Previous reading on BC:
Metro to update regional transit plan, study Uptown service (3/15/12)
Metro adds three hybrid buses to fleet (8/5/10)
Metro wins $1.9M for hybrid buses (6/10/10)
Metro honored for safety, plans new communications system (6/8/10)
Tell your Metro story, win free bus rides for a year (6/1/10)