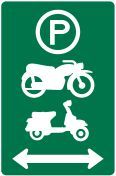 The City of Cincinnati Department of Planning & Buildings will prepare for the April 6 meeting of the City Planning Commission new zoning code language that would provide greater flexibility in parking requirements – specifically for motorized two-wheeled vehicles – in high-density zoning districts.
That information, contained in a report to Council submitted last week by department director Charles C. Graves III, came in response to a December 2011 motion submitted by councilmembers Seelbach, Quinlivan, Simpson, Young and Vice Mayor Qualls suggesting specific changes to the code's Section 1425-23.
The code change would affect residential multi-family, downtown development, urban mix, riverfront, and institutional-residential districts. Where dedicated parking is made for two-wheeled vehicles, a one space reduction would be available for every two spaces made available to two-wheeled vehicles. Downtown, that reduction would apply to no more than 50 percent of required spaces.
The goal is to encourage developers in high-density neighborhoods to make use of alternative transportation options and reduce their developments' required parking burden.
Launched in October 2008, Cincinnati's Two-Wheeler Parking Pilot Program provides free on-street spaces for motorcycles, scooters, and mopeds.
Image credit: City of Cincinnati
Previous reading on BC:
Permits would not cover lost revenue from two-wheeled parking spaces (8/5/09)
Permits, additional spots recommended for two-wheeled parking (6/25/09)