Cincinnati City Council is considering an ordinance allowing the City to apply for a grant of approximately $300,000 through the Ohio Department of Development's Clean Ohio Assistance Fund for environmental assessments at the former Hudepohl brewery site in Queensgate, a move that could push the complex closer to redevelopment.

The property, at 601 W Sixth Street, is in a partial state of demolition and has been eyed for office, light industrial, or residential redevelopment by owners Hudepohl Square, LLC, which purchased the long-dormant plant in 2004.

But a three-year legal fight against demolition contractor Demetrius Ball, which began in 2005, eventually ended in the owners' favor, but left them without the money to complete demolition or proceed with the redevelopment.

Since then, the building has been open to the elements and has required City barricading on several occasions. Public Services crews have been called out to take care of the abundant weeds and litter.

The building was declared a public nuisance in March 2009 due to "excessive deterioration to the walls, floor, ceilings, windows and roof structures".

In December 2009, brothers Saeed and Safi Safi of Hudepohl Square, LLC were found guilty on three misdemeanor counts for fire code violations and were granted admission to a compliance program, on the condition that they provide a timeline for work that was satisfactory to both the Cincinnati Fire Department and the Department of Buildings and Inspections.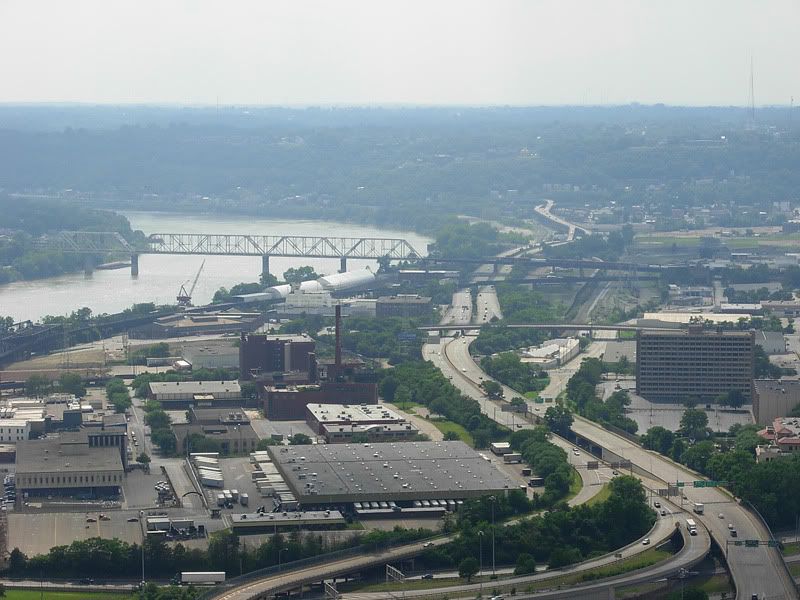 That timeline was submitted just before Christmas and, although details have not been made public, the owners have stated their intent to save as much of the structure as possible – including its signature smokestack.

In the meantime, the City has ordered the 1.6-acre property fenced in and all openings within 10 feet of the ground sealed shut.

If the grant application is approved by Council, a 45-day public review and comment period will be held prior to its submission.

The City has made it clear that environmental assessments must be undertaken before any remediation and redevelopment will even be considered.

Hudepohl photo courtesy of Gordon Bombay/Queen City Discovery.

Previous reading on BC:
Hudepohl property may still be developed (6/15/07)
801 W Sixth Street (2/13/07)