Nearly two months ago, the Rookwood Pottery Company announced that it has relocated its headquarters from Glendora Avenue in Corryville to 1920 Race Street in Over-the-Rhine, near Findlay Market.

The 100,000-square-foot facility is comprised of three buildings – a 1926 two-story brick building facing W McMicken Avenue, an adjacent three-story brick building built in 1931, and the "Catanzaro addition", built in 1983.

Suzanne Blackburn, public relations and marketing manager, says that the new buildings allow Rookwood to have all of its functions under one roof.

She also says that Rookwood made the move because it wants to play an integral role in the urban arts development going on in Over-the-Rhine.

"This is a modern of expression of who Cincinnati is and where we're going," Blackburn says. "We think what's going on in Over-the-Rhine is really authentic – authentic architecture, authentic history, authentic tile. It just kind of fits in together, so we want to be a part of that. The hope is that we can, with Findlay Market, just have people come over to Rookwood and have kind of a walking neighborhood."



Back to basics

Rookwood's creative director and architect Roy Robinson, who earned his master's degree at M.I.T. and worked in Washington DC, Chicago, England and Finland before moving back to Cincinnati in 2006, had a vision for the massive space.

Formerly used as a produce warehouse, the buildings presented a number of challenges.

"The first approach was kind of timid – we weren't going to change a lot," Robinson says. "We were going to try to just work with what was there and spruce it up. Then it was sort of like, 'Well, no, this needs to come out,' and, the next thing you know, we had a whole new floor plan."


Much of what made the building functional in its former life – insulation and mechanicals for refrigeration and cooling – had to be removed, and the ceiling was ripped out and natural skylights installed.

"We kind of wanted to get back down to the basics of the building," Robinson says. "To some extent, it was about bringing around the rest of the building to look like the parts out front and making it look nicer. And all of the creative staff was kind of interested in having at least some indication of what the weather conditions were like outside. So just having that natural light makes a huge difference."

Robinson decided to retain the basic layout of the offices, which are located in the middle of the building footprint.

"The idea was to have a building within a building," he says. "It's kind of like a big doughnut. You have to come through the warehouse and factory part to get to the middle, where all of our showroom and office space is going to be."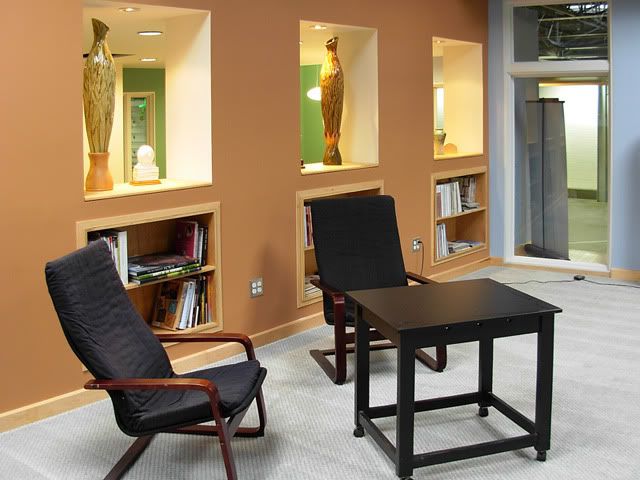 But the use of colors in the office space, suggestive of Rookwood's pottery creations and glazes, has totally changed the space's look and feel.

"I think that's been key to the office area, in particular," Robinson says. "As we expand out into the production areas, we're going to try to do a little bit more of that. But the production areas will always be a little bit more 'raw'."


A 'theatrical' presentation

The non-descript "blue door" will be transformed into a grand main entrance into the complex, leading directly into the retail showroom space in what is now the lower loading dock.

Concept boards, samples, and pieces of the company's handiwork will be ready for perusal.

"People can come in and say, 'I want that as a backsplash,'" Blackburn says. "They're just to give people an idea of certain ways to use our products. These are also available to our dealers. They can use these, or they can create their own."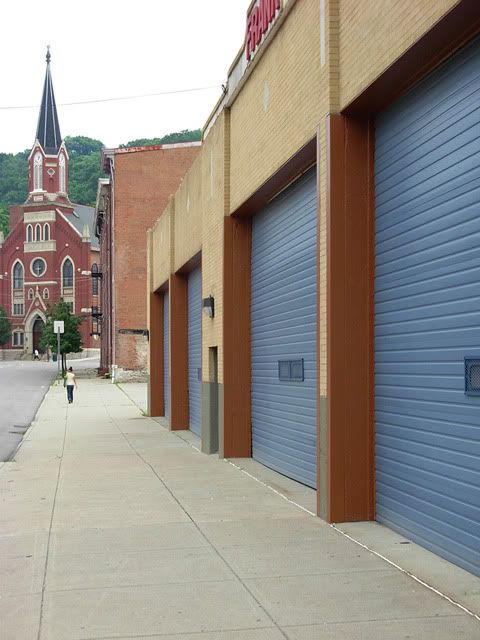 The large blue garage doors that dominate the façade will be replaced with curtain walls, resulting in a "theatrical" presentation from the street – much like a department store display.

"It will be much grander, with much more product by then," Robinson says. "It will be more of a storefront kind of approach to our product. The idea is that it's going to be very lively inside there."

Rookwood product will be heavily incorporated into the exterior detailing, he adds.


A hidden gem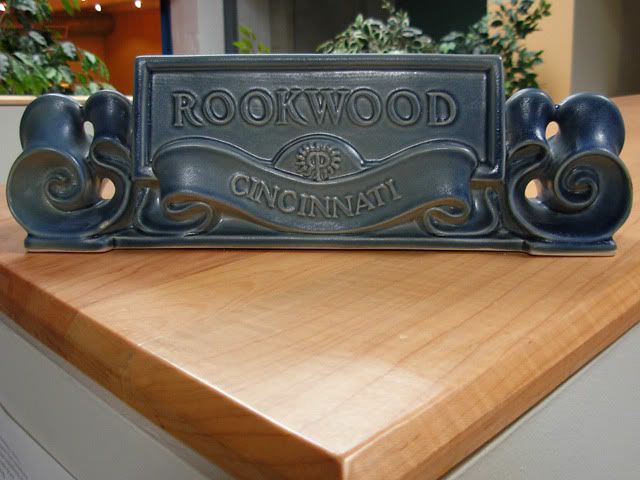 Walking or driving down Race Street, the casual observer wouldn't even know that Rookwood is there.

Eventually, identification and logos will adorn the front elevation.

"I think that right now we're not wanting to be too public," Robinson says. "Most of our traffic is through the channels of publicity and marketing that we've selected, and word-of-mouth, and so forth. So if you hang a big sign outside, you're inviting people to start knocking on the door – and we're not quite ready for that yet."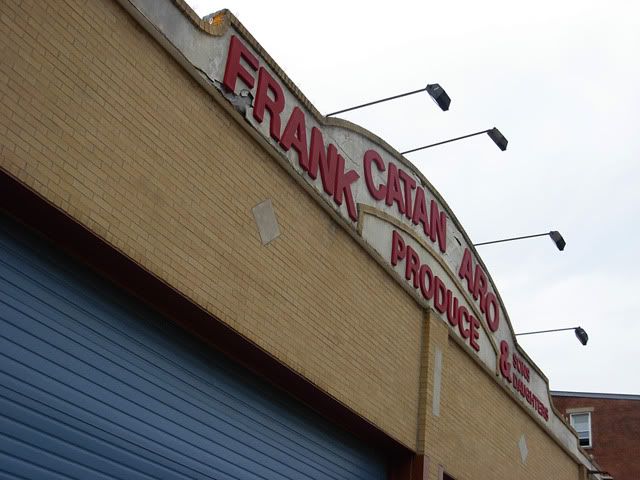 Signage installation is awaiting buildout of the interior, Robinson says, adding that he's currently working through the City's Historic Conservation Office on how to remove the large "Catanzaro" sign that adorns the 1983 building's cornice.

To replace that amount of approved signage, a whole new round of signage approvals will be required.

"We've been anxious for a while to take care of that," Robinson says. "Plus, there's a big mural on the parking lot side that we're probably going to re-create in a way that suits our needs. We're thinking of doing something like some kind of a view of the City that shows Mount Adams with the old Pottery building on it, to give it some kind of a bridge to the historic building."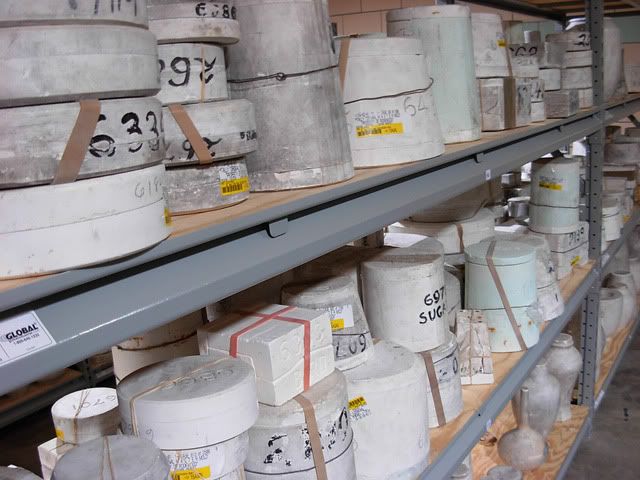 A room full of history

On the lower level of the complex, a small, temperature-controlled room contains 3,162 of the original molds, including the first mold Rookwood Pottery ever made in 1880, all numbered in sequence.

While it's quite an impressive collection, the molds are quite fragile and can no longer be used, Blackburn says.

"Having those molds is really cool, but it's mainly cool just that we have it," Blackburn says. "We have it there to look at, but we don't really put those molds to use."

Many of the remaining molds are art pottery molds – a significant number of the architectural molds have been lost over time.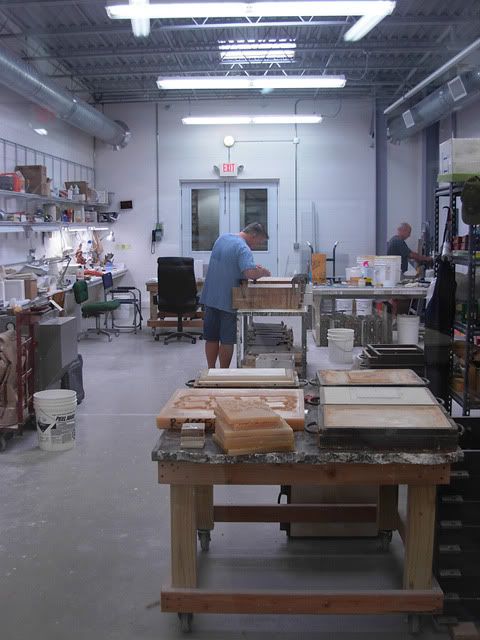 "It's a shame that when Rookwood moved down to Starkville, Mississippi in 1959, they destroyed half of their molds, most of them architectural molds," Blackburn says. "Stupid! Really dumb!"

However, Rookwood's designers and sculptors have the ability to re-create some of these architectural elements, which they have done for their Heritage Collection.

"What we do is look at our old records," Blackburn says. "We have tons of old architectural watercolors, we have pictures of installations, we have architectural drawings. So we can create tiles from those jobs. "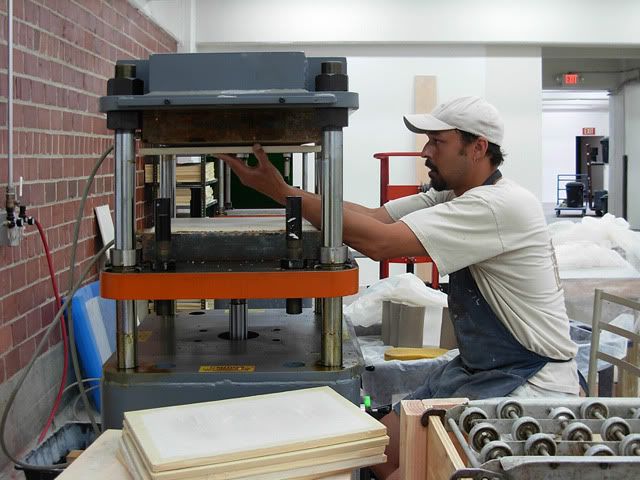 Tours planned

From the beginning, thought has always been given to public tours.

"We're hoping to start tours as soon as September," Blackburn says. "Maybe just one day a week, for about an hour or two. I think that's something that Cincinnati has been begging us to do."

Initially, groups will be limited to small special-interest groups of no more than 15 people.

"Our space right now is not such that you can have a big group of wild kids running around," Blackburn says. "So we would just be kind of catering to out-of-town people who already know about Rookwood who contact us."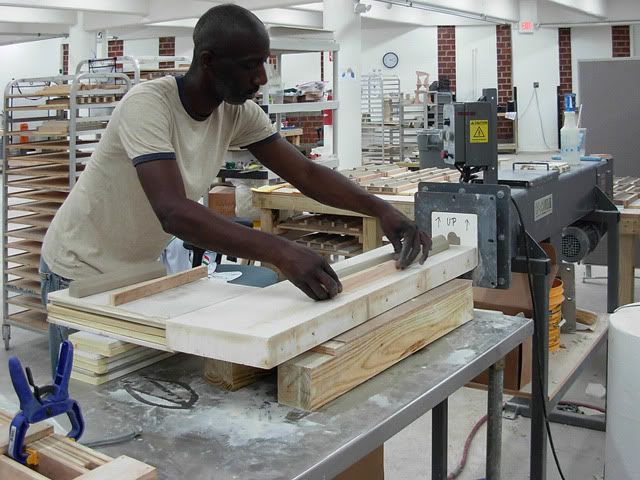 The hands-on, artisan nature of Rookwood's production process makes it perfect for tours, Robinson says.

"I think there's a lot of interest in that," Robinson says. "We want to do a little bit to tell our story in here, too. Eventually, the ultimate plan is to have a kind of museum space about the history of Rookwood, and how the company now fits into that."

Rookwood's ten-year plan calls for the eventual admission of up to 200,000 visitors and a staff dedicated to giving public tours.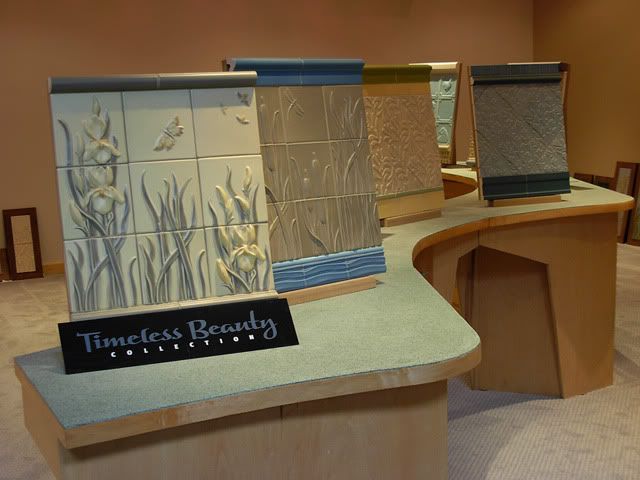 Pushing limits, hitting marks

In addition to building its staff and setting up its national dealer network, Rookwood Pottery is working on its new product lines, such as the Timeless Beauty, Heritage, and Modern Classic collections.

Since opening in 1880 – and reinventing itself in 2006 – the company has always been at the forefront of industry technology, whether creating new glazes, new glazing techniques, or proprietary clays that are more durable than its competitors.

"Rookwood was about pushing the limits," Blackburn says. "We created all kinds of crazy, innovative techniques, and I think that we're still trying to do that today. So with our Modern Classic Collection, the thinking is, if Rookwood never went out of business, what would they be doing today. They would be pushing the envelope still. They would be coming up with crazy new designs that kind of question the four-by-four squared tile."

Meanwhile, finish details on the office space are scheduled for completion in the late summer or early fall.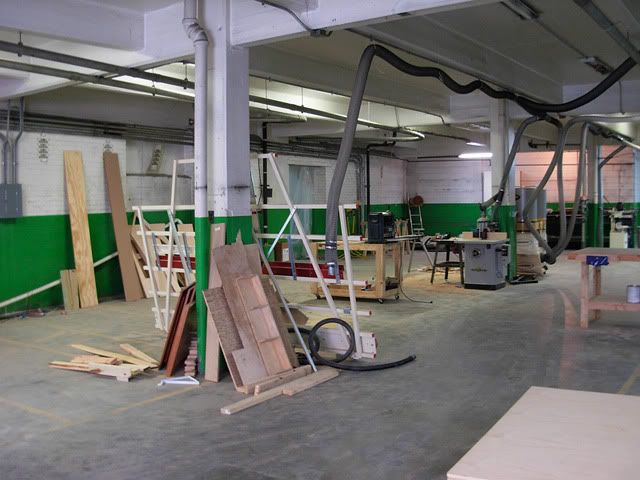 "Beyond that, it's driven more by production and projects that we get in," Robinson says. "We still have room to expand in this facility. We have two more floors upstairs that we're not really utilizing right now. Eventually, the plan is to expand beyond just this building, but that's kind of down the road."

Robinson adds that there are still ideas for a café, classrooms, a green roof, a rooftop terrace….

"There's a kind of evolution that's going on," he says. "We have to hit all of our marks along the way to get there."