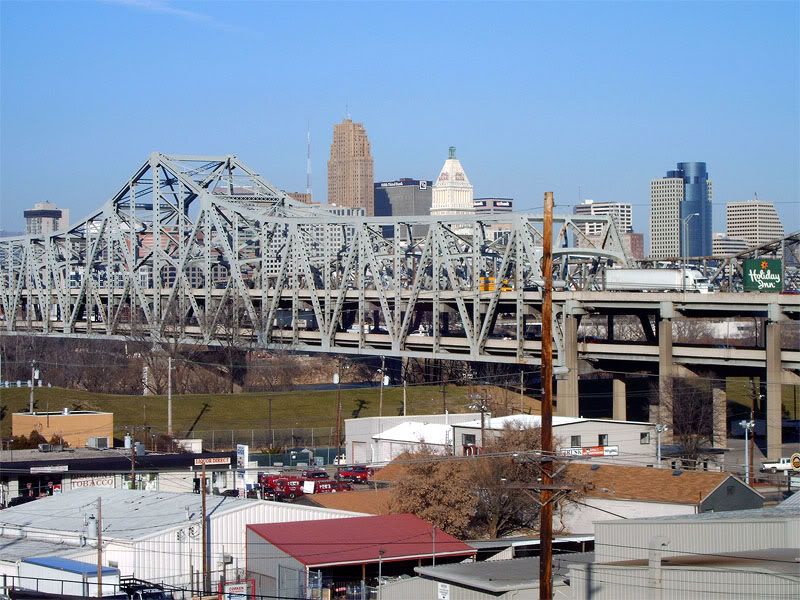 Cincinnati City Council has adopted a resolution accepting a document that could eliminate two Brent Spence Bridge alternatives and save Queensgate jobs.

Produced upon the request of the Federal Highway Administration (FHWA) and the Ohio Department of Transportation (ODOT), Queensgate Area Issues, Considerations and Recommendations summarizes the official views of the City of Cincinnati relative to the issues, considerations, and recommendations pertaining to the seven current alternatives for the $3 billion to $4 billion project.

Prepared by RL Record LLC and the City's Department of Community Development, FHWA and ODOT will use the document as part of its decision-making process in the project's Step 5, during which the alternative alignments developed in previous steps will be pared down to those suitable for further study.



Current conditions

Queengate today is the result of a $9 million public bond issue initiated in 1956 to provide a location for the new freeway and to establish 13 "superblocks" dedicated to light industry, warehousing, and service businesses.

The centralized location with access to freeways and rail sidings required the demolition of hundreds of structures and the construction of several multi-laned arterial roads.

The area south of Cincinnati Union Terminal is home to an estimated 300 businesses, employing more than 3,500 and generating $3.2 million in annual income tax revenue for the City.

And one major project has the capacity to add 500 to 750 more jobs to the neighborhood.

Queensgate South, a 17-acre former scrap yard and metal processing site, is currently wrapping up an environmental remediation and could be ready for redevelopment as an office or light industrial campus within the next couple of years.


What's the alternative?

The alternatives currently under study all have the following required outcomes:

Improving traffic flow
Reducing safety hazards
Correcting highway geometric deficiencies
Enhancing national trade, defense, and mobility
(See the seven alternatives here. Alternatives A and B are listed as Alternatives 1 and 2.)


Although all seven alternatives produce the four desired outcomes, the report finds significant negative impacts from Alternatives A and B.

Avoiding the direct loss of businesses
Estimates are that Alternatives A and B could displace between 1,510 and 2,342 jobs, resulting in property losses of between $28 million and $48 million. Additionally, it's expected that at least 1,000 of those jobs could not only leave Cincinnati, but could leave the state of Ohio as well.

Being consistent with all adopted economic plans, projects, and policies
The study finds that Alternatives A and B could impact 20 to 25 percent of the south Queensgate land area, jeopardizing redevelopment efforts.

Providing as good or better access to Queensgate from the interstate and state highways
Potential access issues with all of the alternatives are unknown at this time, as alternatives continue to be refined.

Minimizing construction disruption to Queensgate businesses
Four elements of Alternatives A and B would cause massive disruptions to businesses in Queensgate over an 18- to 24-month period, including tying in the new interstate link to the existing I-75, construction of the new Ohio River bridge, closing the US-50 crossover for any period of time, and street closings within the local network.

Avoiding aesthetic intrusion
An elevated highway through Queengate would not only create a physical and visual barrier right through the heart of Queensgate, but would also decrease the flexibility of future redevelopment options for the neighborhood.

Avoiding conflicts with other City plans, projects, and policies
Current plans or projects are incompatible with Alternatives A and B, including projects such as the Queensgate South redevelopment, the Metropolitan Sewer District's (MSD) combined sewer overflow project, the US-50 lane addition project, the Queensgate neighborhood gateway project at W Eighth and Linn streets, a mixed-use proposal for W Eighth Street and Freeman Avenue, and numerous green initiatives.


Avoiding factors that have had adverse impacts on Queensgate and its relationship to adjacent neighborhoods
Alternatives A and B would significantly alter the stability and dynamics of the neighborhood, would affect neighboring communities by eliminating many pedestrian- and bus-friendly jobs, and would disproportionally affect employment opportunities for minorities and people with low incomes.

Avoiding disproportional and excessive project costs
The selection of Alternatives A or B would incur an additional 2 to 3 percent in costs ($70 million to $105 million on $3.5 billion) due to right-of-way acquisiton, street grid improvements, and the relocation of Duke Energy transmission lines, MSD and Greater Cincinnati Water Works facilities.

Also included in the report was feedback from a June 24 meeting of council's Subcommittee on Transportation and Infrastructure, which included input from the City of Covington, Duke Energy, the Cincinnati USA Regional Chamber, planners, preservationists hoping to protect Longworth Hall, and numerous Queensgate business owners.


Summary

The study summarizes its findings with three major points:
From the Queensgate perspective, Alternatives A and B have distinct and significant disadvantages in many categories
Alternatives A and B are inconsistent with or in conflict with City actions of record pertaining to the Queensgate area
Unless there are other compelling cost, impact or performance benefits, Alternatives A and B are not prudent solutions, and may reasonably and justifiably be dropped from further consideration
According to the project website, a refined list of conceptual alternatives is due to be submitted to ODOT on October 24.
Previous reading on BC:
Cincinnati council resolves to save Queensgate businesses, light rail options (3/28/08)
Brent Spence project releases amended schedule (2/27/08)