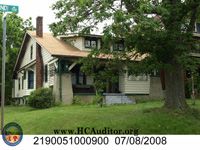 NEIGHBORHOOD:
Spring Grove Village
YEAR BUILT:
1910
USE:
Single-family dwelling
OWNER:
Bradley L. Powell and Amanda Myers-Powell
ASSESSED VALUE:
$91,110
ORDERS:
January 2013, following a one-alarm fire that started on the first floor and quickly spread to the second floor and attic. Damage was estimated at $150,000, and there were no injuries.
CONDEMNED:
--
HAZARD:
--
REASON RAZED:
Demolished by the owners to close out orders.
MAP