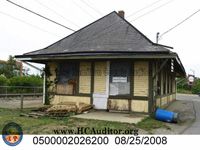 NEIGHBORHOOD:
Oakley
YEAR BUILT:
1909
USE:
Commercial
OWNER:
CSX Transportation
ASSESSED VALUE:
$23,420
ORDERS:
April 2009, for windows, exterior walls, and damaged structural elements.
CONDEMNED:
November 2010, building attracting criminal activity.
HAZARD:
--
REASON RAZED:
A lease agreement between CSX and the
Cincinnati Preservation Association (CPA)
to move and rehabilitate the building expired in May, and CSX declined to renew it. A half dozen potential buyers had emerged in the two and a half years of CPA involvement, but a viable development plan could not be found. The former Baltimore & Ohio Railroad station was last used in 2008 by a recycling business.
MAP