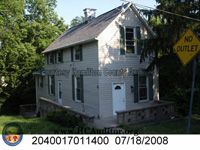 NEIGHBORHOOD:
West Price Hill
YEAR BUILT:
1930
USE:
Single-family dwelling
OWNER:
J&S Property Investors LLC
ASSESSED VALUE:
$36,890
ORDERS:
August 2007, ordered barricaded. Ordered vacated and barricaded in April 2011 due to vandalism, broken windows and doors, and damaged siding. A civil fine was issued in July 2011.
CONDEMNED:
November 2011. A criminal case was filed in February 2012, but was dismissed a month later for want of prosecution.
HAZARD:
August 2012, adding gutters and downspouts and tree damage. Property purchased by current owner in June 2013.
REASON RAZED:
Declared a public nuisance and entered into the City's hazard abatement program. Demolished using Moving Ohio Forward program funding.
MAP