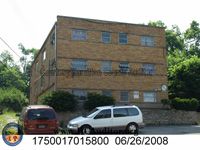 NEIGHBORHOOD:
East Price Hill
YEAR BUILT:
1963
USE:
Multi-family dwelling (6 units)
OWNER:
JD Squared Enterprises LLC
ASSESSED VALUE:
$107,360
ORDERS:
October 2005, for exterior paint and gutters and downspouts. Reissued in June 2011 for exterior walks, exterior hand rails, smoke detectors, plaster, doors, lack of electrical service, gutters and downspouts, cornice, windows, and exterior steps. Ordered vacated and barricaded in September 2011, adding rubbish, high weeds, and a lack of water service. A civil fine was issued in October 2011.
CONDEMNED:
December 2011, for a partially collapsed garage. In August 2012, the entire structure was condemned.
HAZARD:
November 2012, adding holes in the ceiling.
REASON RAZED:
Declared a public nuisance and entered into the City's hazard abatement program. Demolished using Moving Ohio Forward program funding.
MAP