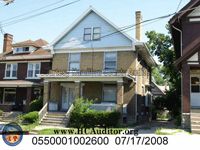 NEIGHBORHOOD:
Evanston
YEAR BUILT:
1910
USE:
Single-family dwelling
OWNER:
Peace and Quiet LLC (Mason, OH)
ASSESSED VALUE:
$57,650
ORDERS:
November 2008, for roof, porch, and exterior paint.
CONDEMNED:
August 2009, adding collapsing interior ceilings due to water damage. The owner claimed he had no money to fix up the property. A civil fine was issued in January 2012, and a second was issued in March 2012. A criminal case was filed in August 2012.
HAZARD:
October 2012, adding broken and missing windows, gutters and downspouts, and high weeds and litter.
REASON RAZED:
Declared a public nuisance and entered into the City's hazard abatement program.
MAP