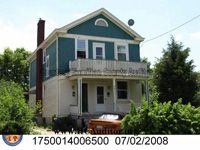 NEIGHBORHOOD:
East Price Hill
YEAR BUILT:
1924
USE:
Two-family dwelling
OWNER:
Justin A. Maiden
ASSESSED VALUE:
$23,000
ORDERS:
March 2008, for front porch and hazardous entry. A criminal case was filed in October 2009. The owner said that the building was in foreclosure. He was sentenced to 180 days in jail, suspended, plus one year of probation and court costs. The property was ordered vacated in October 2010. In January 2011, it was found to be occupied by at least six tenants.
CONDEMNED:
May 2011, to new and current owner, adding broken and missing windows and doors, soffits, hazardous garage, high weeds, and litter. A civil fine was issued in September 2011.
HAZARD:
November 2011, adding gutters and downspouts.
REASON RAZED:
Declared a public nuisance and entered into the City's hazard abatement program.
MAP