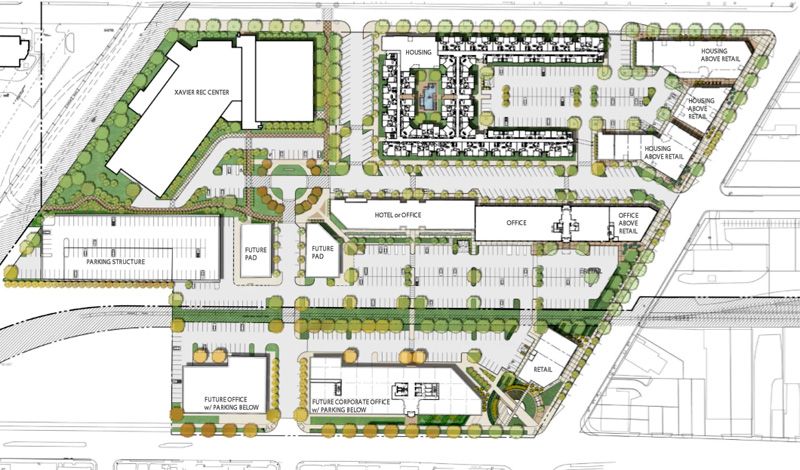 Site work is scheduled to begin soon at the $54 million University Station development, a mixed-use project straddling the Cincinnati-Norwood line near
Xavier University
.
Co-developers
Ackermann Group
and
Messer Construction Co.
have announced that funding has been secured for the 20-acre project through a lead loan from
U.S. Bank
and federal New Markets Tax Credits. Tax increment financing (TIF) funds from the City of Norwood will pay for public improvements in and around the site.
In 2007, the university and Covington-based
Corporex Companies
announced plans to develop the property as a $150 million project called Xavier Square.
A portion of the property has been inactive since 1990, when a reaction vessel at
BASF's
resin's plant exploded, killing one and injuring 71 others. BASF donated that property to Xavier in 2000.
In March 2008, the university cleared the rest of the site when it imploded the former
Zumbiel Packaging
plant, four years after that company moved its plant to Hebron, Ky.
Plans for Xavier Square were shelved later that year due to the recession. Xavier, Ackermann, and Messer have been developing the current project for the past two years.
"We've worked very closely with Xavier University as well as leaders from the cities of Norwood and Cincinnati and Evanston Community Council to fulfill our vision for a revitalized Montgomery corridor," said Dobbs Ackermann, CEO of Ackermann Group, in a prepared release.
Liz Blume, director of the
Community Building Institute
and a former planning director for the City of Cincinnati, agreed.
"Xavier has worked with Messer and Ackermann as well as representatives from Norwood, Evanston and Avondale to design the ideal, walkable, mixed-used development for our neighborhood," she said. "We're thinking about the kinds of uses that will serve the University and the larger community, things like new restaurants, a bank, our book store being more accessible to the community — things that will improve the amenities available to everyone who lives nearby."
The first phase will include 315,000 square feet of buildings, including a 225,000-square-foot, 180-unit and 480-bed apartment complex serving the university and local community; 40,000-square-feet of office space; 35,000-square-feet of retail space, about one-quarter of which will be occupied by a Xavier University bookstore; and 900 parking spaces.
Tenants for the office and retail space are expected to be announced within the next few weeks. The first phase is scheduled to open in August 2014.
A second phase, which will be similar in square footage to the first phase, will include additional office space, retail, and possibly a hotel.
Located
along Montgomery Road and Dana and Cleneay avenues
and incorporating a possible future light rail line, Ackermann said that he believes that University Station will be a cut above standard mixed-use developments in the region.
"University Station will be a catalyst for the continued visual and economic improvement of the Norwood, Evanston and Avondale communities, and a connector that links the communities to Xavier University," he said.
Previous reading on BC:
City rezones for its portion of Xavier project (10/8/12)
Planning Commission to consider concept plan, rezoning for Xavier project (7/19/12)
Zumbiel implosion photos (3/26/08)
Xavier moving forward with Hoff, Xavier Square (3/19/08)
Blume to discuss Xavier Square on Thursday (3/11/08)